Understand the real truth behind Christopher Columbus & his genocidal actions against indigenous people. Christopher Columbus Holiday should be abolished & in no way shape or form be celebrated.
Moorbey'z Blog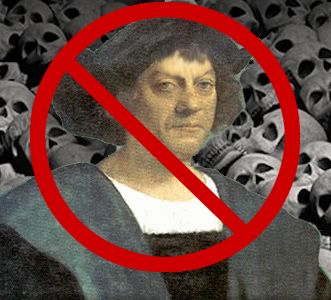 October 12th is Columbus Day, a day which is increasingly coming under criticism for celebrating a genocidal pirate, murderer, rapist, and enslaver who is credited with the "discovery" of the Western Hemisphere.
Most people today dismiss the notion that Columbus "discovered" a land that was already packed with 100 million people and 6,000 years of thriving civilizations (the earliest urban center with communal architecture is at Porvenir, Peru, dating back to 4930 B.C., according to Haas et al, 2004).
The world that Europeans "encountered" (read: "invaded") was not that of a barren wilderness, sparsely populated by nomadic tribes; but a continent filled with wealthy, urban civilizations and complex, sedentary farming cultures. The Western Hemisphere of 1492 was a land of cities, writing, mathematics, astronomy, calendars, and engineering (listen to the Charles Mann interview for more information).
Unknown to most people is the enormity of Columbus' genocidal actions…
View original post 1,153 more words